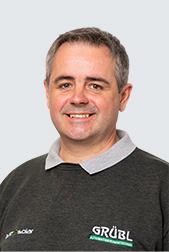 Ing. Andreas Dunst
Prokurist
T. +43 (0) 3113 20150-112
M. +43 (0) 664 403 92 56
andreas.dunst@gruebl-automation.at
Environmentally Friendly Energy Thanks to Biomass and evon XAMControl
Bioenergy from local district heating plants is an environmentally friendly alternative to domestic oil-fired heating systems. In Gersdorf, the farmer-organized cooperative has been supplying environmentally friendly energy from local wood chips to houses, apartments, factories, production halls and public buildings since 2005.
Currently, 55 consumers are supplied with heat energy to the tune of approx. 2,700 kW along a 4,300 m route. Over the past 15 years, environmentally friendly heating energy equivalent to approx. 2.5 million litres of extra-light heating oil has been produced.
Update with evon XAMControl
The company GRÜBL Automatisierungstechnik GmbH, an evon partner for many years, was chosen as the automation software supplier responsible for the expansion and update of the district heating plant in Gersdorf. The plant hardware consists of two biomass boilers, an oil boiler, and the hot water network. Evon XAMControl was used for the control and visualization of a biomass boiler and the hot water network. The biomass boiler can be controlled directly from the visualization. This is true for all plant parameters and for the control modes of the subordinate plant components and the integrated controller. The hot water network is fed by three boilers according to demand (summer, winter, ...). At the moment, only one biomass boiler is active in summer. The second boiler is fired up during periods of high demand (winter) or during periods of maintenance. The oil boiler provides fail-safe capability. The network is fed via a hot water buffer to eliminate fluctuations in the supply to the network (10 m3 volume).
The buffer feeds three network strands. Temperature control is achieved via a mixing valve. Two network pumps are employed. These alternate in a predetermined interval (e.g., weekly). The network pumps are speed controlled using differential pressure measurements at the end of each strand.
Always Uptodate
All plant parameters are stored in the evon XAMControl database and provide the basis for the evaluation during operation and the permanent optimization. All demand values are directly visible in the visualization. Trends support the analysis of the behaviour over time and the monitoring of the optimization measures. In the event of a fault, automatic alarms are sent either by email or sms.
Contact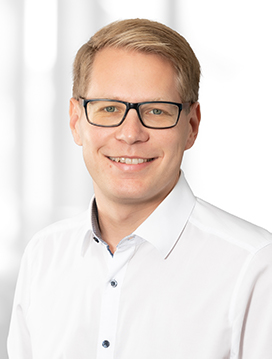 Rene Hirschmugl
Area Director - Process Control Engineering
More about the evon Projects in Process Control Engineering?
Fill in the form below our call Rene Hirschmugl!