Magna Powertrain Ilz Fiat Giorgio ATC EOL
Partner: Dynamic Assembly Machines Anlagenbau GmbH, Plant location: Ilz / AUSTRIA
HIGHLIGHTS
test bed server + database server
6 stations
Cycle time of 220 seconds per transfer gearbox
Over 100 steps per testrun
Unlimited number of products with flexible procedures incl. subprocedures (operations)
Sampling and recording of measurement data at 100 Hz
Interfaces: S7 TCP-link (control), UDP (noise analysis), FDX (Ethernet),SQL (assembly line)
A flexible and unbundled EOL testbed at Magna Powertrain in Ilz sorts out, what does not meet quality standards.
A major part of modern assembly lines today is the testbed. This EOL testbed (End of Line) ensures that the prescribed standards regarding quality and tolerance are complied with and parts that do not comply are sorted out accordingly.

New ways ...
The example of Magna Powertrain in Ilz show the advantages of a new approach towards testing transfer boxes. Together with our partner DAM (Dynamic Assembly Machines Anlagenbau), we were able to develop a concept that increases flexibility, delivers exact data and can be adapted to the prevailing conditions.

Unbundling
In this particular case, the transfer gearboxes pass through a series of stations and if all tests are passed, they are packed and labeled. In contrast to the conventional approach, the automation tasks were strictly separated from the higher level tasks and processes. This "unbundling" increases the flexibility and makes it possible to test the control even without a supervisory level MESControl. The individual test stations provide defined functions.
For example, the oil filling station delivers the demand volume and tolerance. The testbed software reproduces these functions as phases (process activity) in the MESControl. The sequencing and communication for the individual phases is controlled by the command interface.

Commando interface
The testbed software sends a command, and status with returned value are reported back. All test stations are constructed using this principle: The test of different clutch plate torque lock points on the clutch testbed, the noise test via structure-borne noise sensors for the analysis of vibrations in the transfer box ...
Each phase of the test communicates with the MESControl via the command interface, when finished it transmits an NIO "Not Passed" or an IO (Passed). The transfer in the chain of stations is variable and can be done either manually, via a conveyor belt or by a robot.

Flexible design
This type of system architecture permits a test sequence (series, reworking, reporting, ...) to be defined for practically every product (=transfer gearbox). Test can be processed in parallel or sequentially and repeated operations can be summarized and stored in so-called Operations.

Maximum quality
The supervisory level MESControl is responsible for the control of the process and also for data acquisition and evaluation, since a central task of the test processes is to improve and hence minimize the NIOs.
Even known processes can require new approaches every once in a while. The MAGNA testbed clearly demonstrates the flexibility and openess of MESControl for new solutions .
Contact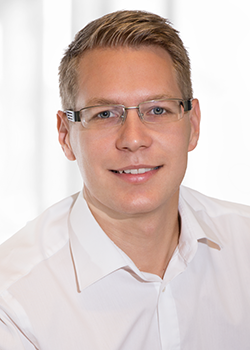 Rene Hirschmugl
Area Director - Process Control Engineering
More about the evon Projects in Process Industry?
Fill in the form below our call Rene Hirschmugl!