Building Management in the Pharmaceutical Industry
Partner: R+S Group, Location: Unterach, Austria
HIGHLIGHTS
Division of the building management system into GMP and non GMP areas
Update to the current version of evon XAMControl
Validation of the upgrade in accordance with SOP 000029 "Validation of IT Systems" and SOP 000049 "Certification of Systems".
Documentation of water consumption
Good manufacturing practice at EVER Pharma thanks to updates of the building management solution evon XAMControl and the expertise of the R+S Group.
EVER Pharma is an Austrian pharmaceutical specialist company whose focus lies on products for the fields of neurology, intensive medicine, anaesthesia and oncology. The offices and warehouse have been monitored with evon XAMControl since 2010. The building management system in Oberburgau near Mondsee includes GMP (quality control, warehouse, weighing centre) and non-GMP areas (offices, development laboratories, technical facility rooms).
The scope of GMP, or Good Manufacturing Practice, includes guidelines for quality assurance of the production processes and environment for the manufacturing of medicines and active agents. Since 2010, quality-relevant sensors, valves and motors have been monitored. To date, no clear distinction had been made between GMP and nGMP functions and sensors.
Divided Focus
Over the course of the upgrade, the existing building management system based on evon XAMControl was divided into a GMP and a non-GMP system.
The update was validated in accordance with SOP 000029 "Validation of IT Systems" and SOP 000049 "Certification of Systems". The system is designated as a GMP-relevant, computerised system according to risk analysis "019481 - HLRA according to SOP 000050 for existing systems_V01".
Main Functions and Interfaces
Several rooms, systems and devices in the office and laboratory buildings (including weighing centre and warehouse) are equipped with quality-relevant sensors. These sensors and the door locking systems in the weighing centre of the building management system are allocated to the GMP area. All non-quality relevant sensors such as actuators (motors, valves, etc.) are classed as non-GMP.
evon XAMControl visualises the status and values of all sensors and actuators. Appropriate notifications are generated for defined events such as exceeding limit thresholds and faults so that the user is actively notified and is able to take the necessary action.
All relevant data from the building management system is saved according to the standards, are available in real-time, and provide the basis for evaluations and documentation.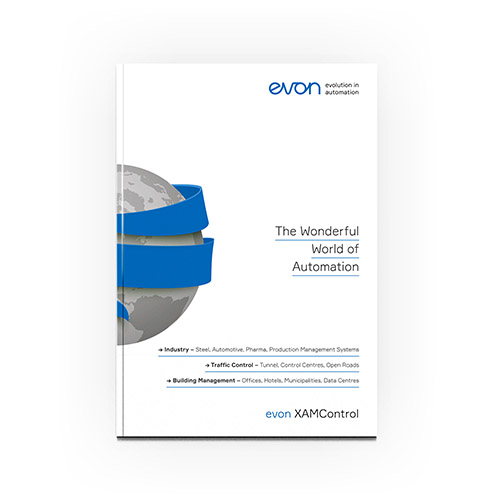 More about evon XAMControl?
evon XAMControl summarized in a PDF, just fill in the form and we will send you the download link immediately.